The first detail of the year was a 2008 Lexus IS F. You couldn't tell this car has over a hundred thousand miles on it. I don't have the 'before' pictures because I started on it before the sun was out and dark colors in the shade really don't show much. I do have some spectacular after shots though. 
I'm getting a little artsy in my old age. Durability is great and all, but I don't detail for many people who just wait for products to wear off before seeing me again. Most of my clients are four or five times a year type people, so I've started to experiment again. For this car I am experimenting with three different products.
After claying and polishing it thoroughly till there wasn't a scratch on it, I started with XMT Carnauba Finishing Glaze. I applied it with my Flex 3401 set to about a 3. This spreads it well and gets a nice solid coat on. I started with this product because I love how it draws the flake out on colors like this.
Next I highlighted the body lines with Wolfgang Fuzion. There are few products that I like better on blue than Fuzion. It is outstanding, but I don't have much left, so I decided to just go for the edges. Iv'e done this before and it always looks amazing.
Of course I buffed these products off between coats. I know someone is wondering that. lol Anyway, the next thing I did was applyPinnacle Souveran on top of the whole thing. I applied this by hand so I could control better how it went on. I did apply it over theFuzion, but at this point it is just another coat on top of it. So some areas have three layers and some have 2 layers, but the whole thing looks ridiculously awesome.
I had considered starting with the Wolfgang Deep Gloss Sealant, but decided to go with more of a carnauba look for this car. In my opinion carnauba has an edge on appearance over most sealants, but the durability is such that the sealants always seem to be my 'go to' products. I really wanted the flake and the color to pop and blow this guy's mind, so I went the carnauba route. He will be back before the end of April for another coat of Souveran before a show in May, so durability really isn't my goal on this project. For winter I think he is going to let me keep the car for a week and build up three or four layers of Klasse before topping it with Souveran or something like that. I'm looking forward to seeing this with that much Klasse on it.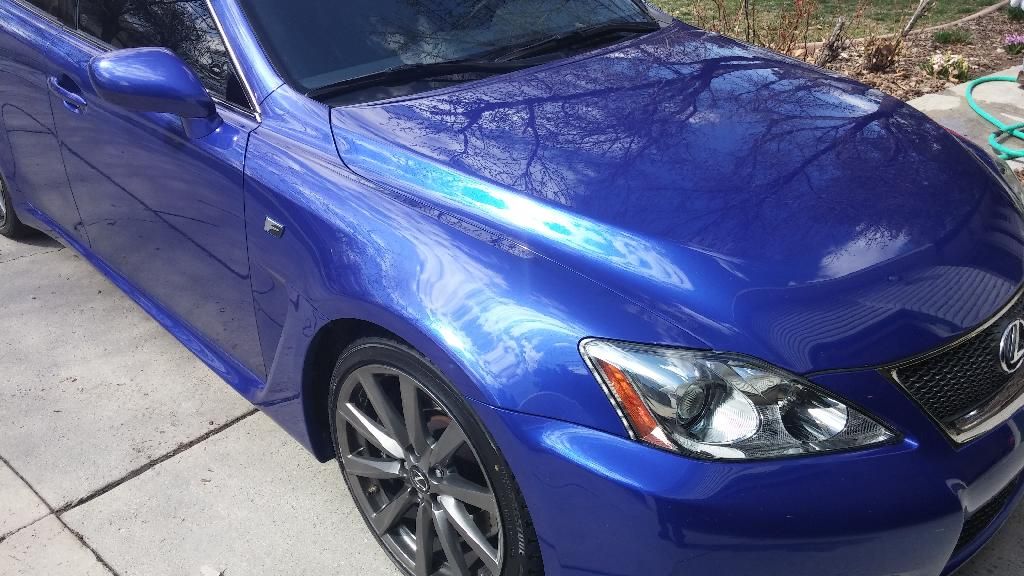 And the obligatory 'shady side' shot and 'money' shot. 
| | |
| --- | --- |
| | This image has been resized. Click this bar to view the full image. The original image is sized %1%2. |
| | |
| --- | --- |
| | This image has been resized. Click this bar to view the full image. The original image is sized %1%2. |
Oh, as a side note… these pictures were all taken with a cell phone. Man those things have come a long way!! I haven't had a phone with a really good camera ever, so this one has been fun. Its an LG G2 and it takes great pictures.