If you have purchased a Porter Cable 7424 or 7336 then you have the right tool for the job of attacking your swirls. On a car that I detailed a couple weeks ago I was reminded that just busting out with the machine and a polish isn't necessarily the best or proper way to get rid of swirls. Paint care isn't a one step process, so I thought I'd post a couple tips on what to expect.
You can get several different varieties of pads for your PC. I haven't really found a brand that I like better or worse than any other brand, so go with whatever is easiest for you. The important thing is that you get the right type of pad.
Pads are typically colored the same to indicate their cutting abilities. Orange is heavy cut, yellow is medium cut, white is low cut, and black is no cut. You would use the black for applying waxes/sealants, white would be for paint cleaners or mild cutting compounds, yellow is for swirl removal and oxidation removal, and orange would be the big gun for serious swirls and paint contamination.
Just the pad alone isn't enough to take care of your paint problems. You have to use the right polish in combination with the right pad. I haven't really figured out the best way to explain how to do that yet. What I usually do is start with a yellow pad and Pinnacle XMT 2 and see what that does. I start with a fender and spend about five minutes on it polishing back and forth and up and down. Here is the before and after result of that method on the fender of a 96 Trans Am.
| | |
| --- | --- |
| | |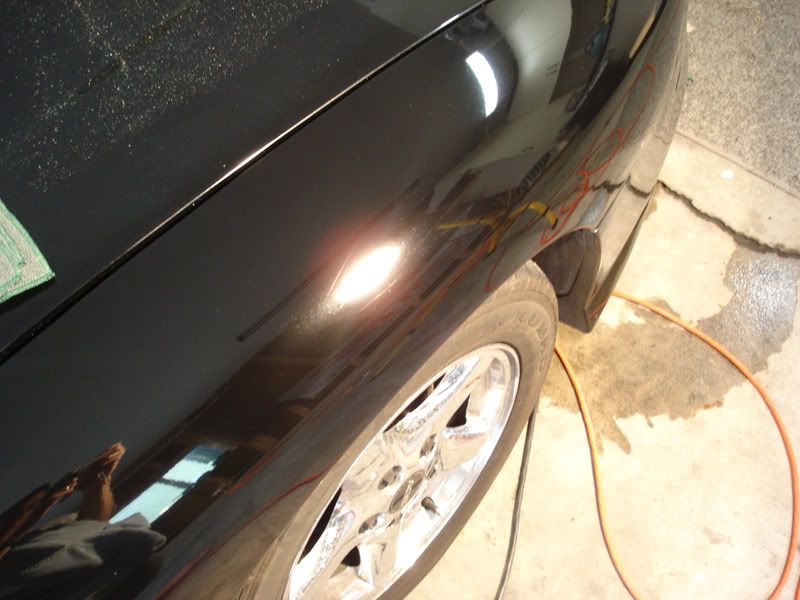 Just one pass isn't always going to 'cut' it, if you'll excuse the pun. Sometimes you need to step down a level in abrasiveness of the pad and the polish. XMT2 and the yellow pad was causing a bit of hazing on the paint. Haze is where you get the swirls out, but you are left with lots of smaller scratches, or 'haze', that still cloud the paint. I step down from a yellow pad and XMT2 to a white pad and XMT1 to take care of haze. Hazing is exactly what I would get on my Legacy when I would polish, so stepping down and polishing out the haze is an important step to getting a perfect shine.
Here is the before XMT2, after XMT2, and after XMT1 on the hood.
You can see the haze in that second picture. See how it still looks a little cloudy and the reflection isn't quite as clear? Here is what it looks like after a little work with XMT1 and the white pad.
Not perfect, but not too bad either. A couple more passes with XMT1 and it looked pretty darn good. Here is the spoiler before and after the polishing steps.
I have seen vehicle paint look worse, but I have also seen it be repaired too. If your paint is in that condition then don't give up hope. All you need to correct it is a PC and a couple of polishes. What you would have to pay a detailer to transform paint like in the pictures above would be probably around $150. The investment in a PC and a couple polishes pretty much equals that, so your effort will pay for itself after only one use.
Gotta love that.